Go To Market Process
Go To Market is what separates a great idea from blockbuster revenues.
Packaging the idea into a marketable offering, presenting it through marketing collateral, and generating qualified leads for it via targeted campaigning -- these are the key steps in the go to market process.
The following diagram illustrates where go-to-market fits in with the rest of a firm's key business processes.

A structured go-to-market process is essential for achieving repeatable success in the market place. While the primary goal of go-to-market is to find new doors and to open them, its agenda includes helping presales and sales to open existing doors as well.
Often, a new business tries to go to market with too many offerings only because its founders are confident that they can deliver on all of them. In many situations, they can. But, the problem is, the market won't be ready to accept that a new business "can do everything". Therefore, it is important to craft a marketable portfolio of offerings so as to maximize chances of "early wins".
Presenting the offering through the right kind of marketing collateral is the next step in the go-to-market process. For a product offering, collaterals include product detail notes, features lists and case studies. For a service offering, capability documents, case studies and customer testimonials are the best practice.
"Build and they will come" is a major pitfall to avoid. Even if you have a great offering and excellent marketing collateral, the market may not be excited enough to approach you. To generate qualified leads, you will want to conduct targeted campaigns to carefully identified segments of the market. 
Once a qualified lead is generated, presales and sales take over and execute the Lead-to-Order / Lead- to- Deal cycle to win orders.
The detailed list of activities to convert a capability into an order is shown below.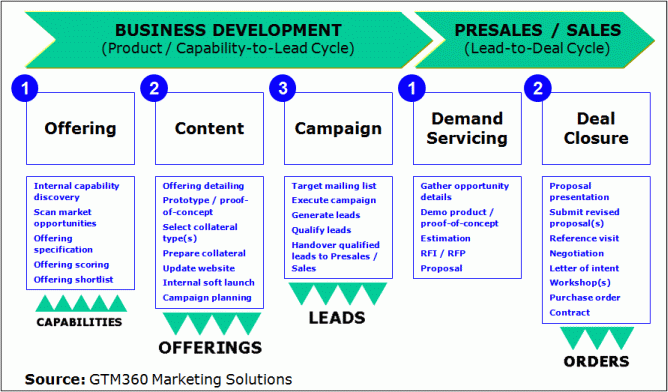 Happy Selling!